NEW COMMERCIAL LAUNCHES IN GURUGRAM
https://nehliarealtors.com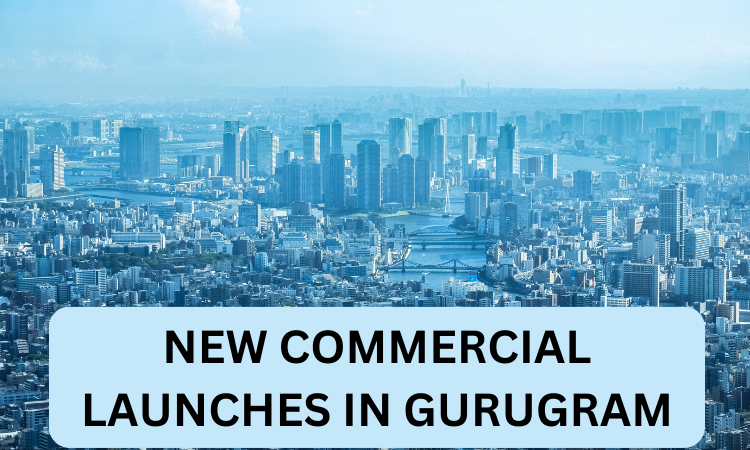 NEW COMMERCIAL LAUNCHES IN GURUGRAM
NEW COMMERCIAL LAUNCHES IN GURUGRAM
As the business landscape in Gurugram continues to thrive, savvy investors are seizing the opportunity to capitalize on the city's commercial real estate market. With its rapid urbanization and flourishing economy, new commercial projects in Gurugram offer a promising environment for those looking to grow their investment portfolios. Gurugram, also known as the Millennium City, has transformed into a prominent commercial hub in recent years. The city's proximity to the national capital, excellent connectivity, and state-of-the-art infrastructure have attracted numerous multinational corporations, leading to an increased demand for commercial spaces. This surge in demand presents an ideal investment climate for those looking to explore income-generating assets.
The commercial real estate Gurugram is experiencing a remarkable rise in demand and rental appreciation. With companies expanding and entering the market, there is an increasing need for office spaces, retail outlets, and co-working spaces. The launch of new commercial projects in Gurugram offers investors a prospect to gain noteworthy capital appreciation and rental income. These projects are equipped with modern amenities, energy-efficient designs, and state-of-the-art infrastructure, catering to the evolving needs of businesses. By investing in such projects, individuals can ensure their capital appreciates over time, while also benefiting from the steady stream of rental income. In this blog post, we will explore how new commercial launches in Gurugram present unparalleled opportunities for investors seeking lucrative returns.
The list of Top 5 New Commercial Launches in Gurugram is as follows
Elan The Mark
Elan The Mark is a luxurious commercial development located in Sector 106, Gurugram. Developed by the renowned Elan Group, this project offers a perfect blend of commercial spaces and amenities. The project spans a vast area and comprises spacious offices, retail spaces, and food courts. This commercial property in Gurugram is strategically located on the Dwarka Expressway, which provides excellent connectivity. The proposed metro station nearby further adds to the convenience of the location. It is also near residential neighborhoods, ensuring a steady flow of customers.
Elan The Mark is one of the best Dwarka Expressway commercial projects that boasts a modern and contemporary design with elegant architecture and state-of-the-art facilities. The spacious offices and retail spaces are designed to meet the requirements of various businesses. The project also features a wide range of amenities including high-speed elevators, 24/7 security, and ample parking space. With impeccable design and prime location, Elan The Mark is an ideal investment opportunity for businesses looking to establish their presence in Gurugram.
M3M Capital Walk
M3M Capital Walk is a prominent commercial project located in Sector 113, Gurugram. This project offers a range of commercial spaces including retail shops, food court, and office spaces, catering to the needs of businesses and investors. The project is strategically situated on the Dwarka Expressway, providing excellent connectivity to Delhi and other parts of Gurugram.
M3M Capital Walk is designed to create a vibrant and modern commercial hub with state-of-the-art facilities and amenities. The project boasts retail space in Gurugram along with ample parking space, 24-hour security, power backup, and world-class infrastructure. It aims to provide a perfect blend of luxury and convenience, offering a unique shopping and business experience. The location of M3M Capital Walk is a major USP, as it is surrounded by established residential projects, commercial complexes, and educational institutions. This ensures a constant flow of footfall and potential customers, making it an ideal investment opportunity.
Smart World One DXP Street
Smart World One DXP Street, located in sector 113, Gurugram, is a stunning urban development that epitomizes the concept of smart living. This integrated township offers a range of meticulously designed residential and commercial spaces, seamlessly blending modern architecture, sustainable design, and state-of-the-art technology.
The commercial spaces cater to the diverse needs of businesses, offering modern office spaces and retail outlets. Conveniently located close to major highways and the upcoming metro station, Smart World One DXP Street offers excellent connectivity to the city and beyond. With round-the-clock security and advanced surveillance systems, residents can enjoy a safe and secure environment.
M3M 114 Market
M3M 114 Market, situated in Sector 114, Gurugram, is an exceptional newly launched commercial development that offers a perfect confluence of style and functionality. This landmark project by M3M Group stands tall with its contemporary architecture and well-thought-out design. With a strategic location, it enjoys excellent connectivity to major residential and commercial hubs of Gurugram. Spread across acres of land, M3M 114 Market offers a diverse range of SCO or shop-cum-office plots catering to the needs of a wide range of businesses.
The development features state-of-the-art infrastructure, ensuring a seamless working and shopping experience for both occupants and visitors. M3M 114 Market boasts of modern amenities and facilities such as 24x7 security, ample parking space, and power backup. With its strong presence in a bustling neighborhood, this commercial hub is set to revolutionize the way businesses function in Gurugram. Overall, M3M 114 Market is a prestigious destination that offers an ideal opportunity for businesses to thrive and grow in a highly sought-after location.
Adani Downtown Avenue
If you're on the lookout for a commercial investment in Gurgaon that's nothing short of amazing in the bustling city of Gurugram, then you should definitely not miss out on Adani Downtown Avenue. It is an avant-garde commercial project located in the prime locality of sector 62, Gurugram. Designed to cater to the flourishing business needs, these plots offer exceptional opportunities for entrepreneurs and investors alike. Spread across a sprawling expanse, Adani Downtown Avenue SCO Plots provide a versatile platform for establishing offices, showrooms, and commercial spaces. With its strategic location, it enjoys excellent connectivity to major business hubs, educational institutions, and residential areas.
Infused with contemporary amenities and advanced infrastructure, this development ensures a seamless working environment and ensures maximum visibility for your business. The well-planned layout offers ample parking spaces and features landscaped areas for a refreshing ambiance.
Invest in Adani Downtown Avenue SCO Plots and experience the epitome of commercial excellence. Seize this golden opportunity and secure your business future today. Contact us now for more details and book your plot before it's too late.
---