TOP 5 COMMERCIAL PROPERTIES IN GURGAON
https://nehliarealtors.com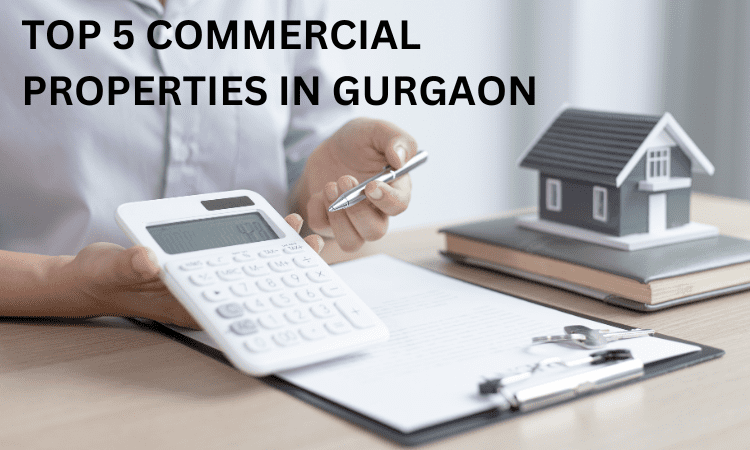 TOP 5 COMMERCIAL PROPERTIES IN GURGAON
TOP 5 COMMERCIAL PROPERTIES IN GURGAON
The industrial hub and millennium city, Gurgaon is been steadily gaining a reputation as one of the most significant towns in India to work and live in. It is a diversified city in every way, and the marketplace for real estate in Gurgaon is emerging in the most effective manner possible. There are numerous top 5 commercial properties in Gurgaon and in this blog, we'll go through the key reasons showing that Gurgaon is a fantastic investment place.
Undeniably, Gurgaon will have an elevated yield in the coming day that will make investing money easier and more fruitful as property buyers and investors will gain significant returns ten years from now. The residents of Gurgaon will have access to every necessity and strong social fabric that will further allow them to invest in advantageous and high-return-yielding properties. The quality of life for people who move to Gurgaon is improved by investing in residential complexes there because of the upscale new stores, public areas, eateries, as well and recreational areas. Everyone may find the best commercial property in Gurgaon based on their desires and requirements.
The finest commercial real estate options in Gurugram where you can make investments and receive excellent returns in the upcoming years will be discussed in this blog. The best projects are the following:
1. M3M Urbana
Launched by the top M3M organization, M3M Urbana is the ideal fusion of high street shopping, fast food, serviced apartments, and contemporary workspace. It is located in Sector 67, with 3.3 acres of land under construction. Every retail block has a distinctive front façade, which the developer wisely chose to do to draw attention to its beautiful architecture. The structure looks even more luxurious and dazzling thanks to the stunning sky bridge interconnecting the retail segments built over the main lobby. The property is strategically positioned to be adjacent to major schools, retail developments, hospitals, and colleges. What are you still holding out for? There is a commercial property in Gurgaon for sale and by acquiring retail space at the luxurious M3M Urbana Gurgaon, get ready to see a rise in your sales graph, unlike anything you've ever seen.
Project Highlights:
The property offers exquisitely planned retail shops and it has spacious storefronts and viewing areas.
Given that the property has cutting-edge flame detection and suppression technologies, safety and security are given great consideration.
The property has a clear and enhanced roof height of 3.65 meters.
There are high-speed lifts available in the building to ensure effortless access to all floors.
To ensure complete safety, there is a robust video monitoring system in the ground floor lobby, basement lobby, and at access and exit points.
2. M3M Corner Walk
The premium M3M Corner Walk is located on Golf Course Road Extension. It is a trailblazing mixed-use development that provides an incredibly profitable opportunity for investors in Gurugram. Superb arterial connectivity makes it a must-invest development. The project also has good access to Sohna Road, Golf Course Road, NH8, and GCRE. This Gurgaon commercial property is destined to be the hub of future commerce since it is designed to be the go-to location for luxury retailers and major corporations.
Project Highlights:
- The property offers classy retail and office spaces that come with an efficient AC system.
- It boasts contemporary and intricate architecture and designs that make the units look large with grandiose frontage.
- The well-designed sky bridges offer smooth connectivity above ground level for a unique recreational experience.
- It has magnificent boulevards showcasing exquisite vistas that further create a luxurious shopping experience.
- The retail units are connected well with elevators and fine-dining restaurants
3. M3M 65th Avenue
M3M introduces 65th Avenue, a contemporary and global mixed-use development that includes Uber housing and retail space. There will soon be a new focal point in Gurugram, M3M 65th Avenue where there is always more to do, so the fun never ends! At the PVR multiplex, watch movies, have some refreshments, dine with acquaintances, play games, and much more. The M3M 65th Avenue Entertainment Zone has a lively, global aesthetic and is ready to provide you with an unforgettable experience. Come and discover the area for entertainment, recreation, shopping, and hospitality, which offers a variety of both indoor and outdoor avenues.
Project Highlights:
- The property offers beautifully planned 30,000 sq. ft. (approx.) of the central plaza.
- The multiple accesses, elevators, connecting bridges, and escalators are placed strategically.
- There are multiple zones for the customers to hang out across the development.
- The theme-based, display area, water bodies, and activity areas make it a great commercial project.
- The property also offers multiple stepped courts, colossal landscapes, a food zone, a social hub, 8-screen multiplexes, pubs, and dazzling eateries.
4. Elan Epic
The upcoming wave of commercial real estate can be found inside Elan Epic, including the most exquisite luxury office spaces and showrooms, unique entertainment, and a delightful fine-dine zone. This showcases the best retail space the city has ever seen, distinguished by its grand architecture and attentive facilities. It is the pinnacle of retail reality. Sector 70 in Gurugram is where the Elan Epic development is situated. The property offers every type of luxury that you may need for your business. The property offers you retail stores and top-notch commercial space. If we discuss the amenities, the property is simply incredible.
Project Highlights:
- The project comprises the biggest water body ever seen in any other commercial property.
- There are road-facing and double-height shops offering maximum visibility.
- The retail pods showcase brands very well in an exquisite manner.
- There is an amazing art multiplex, 5 Silver screens, a floating restaurant, and a bar in the central atrium.
- There are major landmarks and high-end residential properties in the surrounding of this property.
5. Elan Miracle
Entering this commercial wonder will be like discovering a unique, contemporary galaxy of cutting-edge retail spaces. Three main roadways, including the Multi Utility Corridor, and Dwarka Expressway, as well as luxury residential hubs and an abundance of green space, surround the structure. Elan Miracle is one of India's largest super plexes with PVR, double-height stores, a food court, and opulent studio flats. Elan Miracle is a high-end retail establishment with double-height retail and anchor store spaces on the ground, as well as a sizable multi-activity atrium. Both a hypermarket and retail stores are located on the LG floor. Elan presents to Gurugram one of the largest Multiplexes in the country in collaboration with PVR Cinemas.
Project Highlights:
- The property offers double-height shops with a high-street retail concept.
- There are multi-activity spaces amidst the atrium along with the cafes.
- The project is surrounded by top residential neighborhoods and thus, invites HNI catchment.
- 6 Silver screens feature different categories like Premier, IMAX, Gold Class, 4D, 5D & 7D.
- It offers proximity to Golf Course Extension Road, Manesar, Dwarka Expressway, and IGI Airport
FAQ's
Ques 1. Why should you buy commercial real estate in Gurgaon?
Ans. Many major companies in the sector now prefer to base themselves in Gurgaon. The town offers a wide variety of business properties, including industrial parks, tiny convenience stores, and recognizable office complexes. Because it offers excellent locations, high standards of living, and great returns, investing here is advantageous.
Ques 2. How commercial real estate investment boasts business growth?
Ans. Gurgaon is a premium location offering accessible and reasonably priced commercial properties. As a result, it offers a lot of solid returns and has a large potential audience. As a result, Gurgaon properties are a wise investment for expanding your businesses.
Ques 3. What are the most desirable Gurgaon neighborhoods to invest in real estate?
Ans. After choosing the builder, the areas and location of the project is the most significant thing. Some of the most prevalent areas that are being extremely recognized, visited, and researched by new-age constructors, financiers, and travelers are Sohna Road, SPR Road, Golf Course Road, etc.
---